Our Method
Snake Avoidance or aversion training is nothing new. It's just newish to Australia. In the US it is fairly common practice and it was after a research visit to the US that we decided to offer it here in WA.
At Animal Ark we use the same naturalistic style of training as many Americans do to effectively snake proof dogs.
We focus on both snake movement and snake smell. When a dog shows interest in either it receives a correction from the collar. The dog thinks the snake caused the discomfort and learns to avoid this in the future.
Refresher training is recommended annually and scientific analysis has found that after 3 to 4 years of refreshers most dogs have learnt it for good, helping to prevent your dog being one of the thousands bitten every year.
…and the results
Some amazing footage from our training course at Harradines Vet Bunbury. One of our clients, Dimi the kelpie cross, at play shortly after training.
Watch the third throw of the stick and where it lands – spot the snake and see what Dimi does……
For more information, please go to our Frequently Asked Questions page.
More videos
In the Media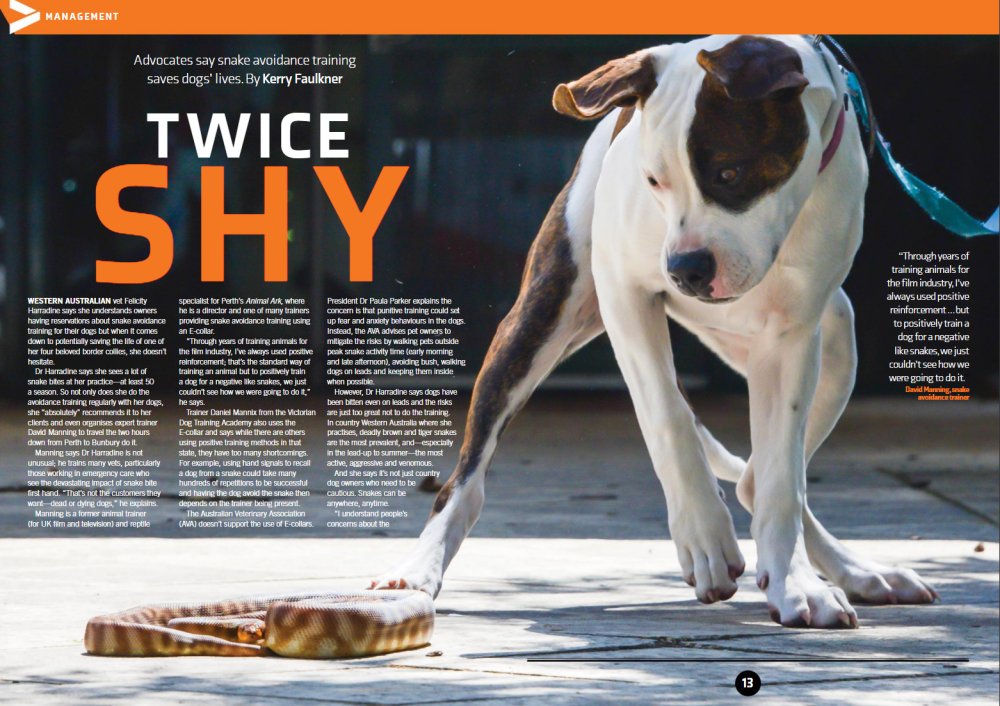 Our Snake Avoidance Training for Dogs has been featured in Vet Practice Magazine. Here's a snippet:
Western Australian vet Felicity Harradine says she understands owners having reservations about snake avoidance training for their dogs but when it comes down to potentially saving the life of one of her four beloved border collies, she doesn't hesitate.
Dr Harradine says she sees a lot of snake bites at her practice—at least 50 a season. So not only does she do the avoidance training regularly with her dogs, she "absolutely" recommends it to her clients and even organises expert trainer David Manning to travel the two hours down from Perth to Bunbury do it.